Engineered Wood and Solid Wood Flooring
Wood Flooring is product manufactured from timber that is designed for use as flooring. Wood is a common choice as a flooring material and can come in various styles, colours, cuts, and species. Double Floor produces many species of wood flooring and they come in many sizes. Oak Wood Flooring is the most popular one among our customers. Other types of wood such as Ash, Acacia, Beech, Iroko, Jatoba, Maple, Merbau, Teak are also good selling products. They come in different width, for example, 4 inches, 5 inches and 8 inches wide. Herringbone wood flooring, both oak wood and walnut wood, are the signature of our products. Our factory can also dye different colours on Oak Wood Flooring to fit your interior design. 
Double Floor's Product Variety
Series 1 : Full Plank Engineered Wood Flooring – 4 inches wide, 5 inches wide, and 8 inches wide
Series 2 : 3 Strips Engineered Wood Flooring – available in 8 inches wide
Series 3 : Multi Strips Engineered Wood Flooring -available in 8 inches wide
Series 4 : Herringbone Wood Flooring – Spec: 10*65*455mm and 10*70*490mm
Full Plank Engineered Wood Flooring
1. Oak Wood Flooring: Spec: (13 mm thickness) / (90, 125, 140, 180 mm width) / (Random Length)
Oak is one of the most used woods for furniture and flooring. Oak is a heavy, strong, light coloured hardwood (hardness of about 4 on a scale of 1 to 5) and easy to work with. White oak is also resistant to moisture and can be used on outdoor furniture.  Oak is the most common wood floor used in North America. Oak flooring is an option that is highly resistant to dents and deep scratches. This makes oak a very popular choice for those homeowners. Like many of the other types we will discuss, oak comes in wide variety of stain colours and almost always has an obvious grain pattern. After years of use, oak floors can seem darken.
2. Maple Wood Flooring
One of the most popular and widely known types of wood is maple. Its grain pattern is more subtle than many other woods and can't absorb dark stains very well. With time, maple wood forms a yellow exterior. The curly grain is very hard. Maple wood often used for bowling alleys. If maple wood can hold under those conditions, it can last in any home in Thailand.
3. Beech Wood Flooring
Beech is a hard, strong, heavy wood with tiny pores and large conspicuous medullary rays, similar in appearance to maple. Beech has has reddish brown heartwood and light sapwood.
4. Teak Wood Flooring
Teak is becoming rarer as the days go on, but it is the staple for fine outdoor furniture. Teak is highly weather-resistant and beautiful. It has an oily feel and a golden-brown colour. It rates a 3 on a scale of 1 to 5 for hardness and is only available from larger lumberyards and specialty suppliers.
5. Jatoba Wood Flooring
Brazilian cherry wood is really called Jatoba. It has a rich burgundy color and is also found in Mexico and Peru. Like Ash wood, Brazilian cherry is a very hard wood.
6. Walnut Wood Flooring
The common walnut, and the black walnut and its allies, are important for their attractive timber, which is hard, dense, tight-grained and polishes to a very smooth finish. The colour ranges from creamy white in the sapwood to a dark chocolate in the heartwood. When kiln-dried, walnut wood tends toward a dull brown colour, but when air-dried can become a rich purplish-brown. Because of its colour, hardness and grain, it is a prized furniture and carving wood. Veneer sliced from walnut burl is one of the most valuable and highly prized by cabinet makers and prestige car manufacturers. Walnut wood has been the timber of choice for gun makers for centuries. It remains one of the most popular choices for rifle and shotgun stocks, and is generally considered to be the premium – as well as the most traditional– wood for gun stocks, due to its resilience to compression along the grain. With a hardness of about 4 on a 1 to 5 scale, Walnut is somewhat easy to work with but every expensive due to its rareness.
7. IROKO Wood Flooring
Iroko or African Teak is a large hardwood tree from the west coast of tropical Africa that can live up to 500 years. The wood colour is initially yellow but darkens to a richer copper brown over time. The wood is used for a variety of purposes including boat-building, furniture, outdoor gates, and domestic flooring. Iroko is a very durable wood. It does not require regular treatment with oil or varnish when used outdoors; however, it is very difficult to work with tools as it tends to splinter easily, and blunts tools very quickly.
Multistrips
Spec: 13*190*1000-2000mm
Types of Wood: HEVEA, BEECH, OAK, MAPLE, CHERRY, WALNUT, MERBAU, JATOBA
Multistrips Engineered Wood Flooring
Spec: 13*190*1000-2000mm
Types of Wood: HEVEA, BEECH, OAK, MAPLE, CHERRY, WALNUT, MERBAU, JATOBA
Herringbone Wood Flooring
Herringbone wood flooring is the signature product of Double Floor. We produce manny type of woods, for example, Natural Oak, Natural Maple, Natural Walnut, Natural Beech, etc. Our factory can also produce many colours for oak wood flooring. White wash, super black, and teak colour are among the famous colours most interior designers prefer. What is your favourite colour?
Herringbone Natural Oak & Herringbone Natural Maple Wood Flooring
Herringbone White Oak Brushing
Herringbone Oak Super Black Brushing
Herringbone Teak Wood Flooring
Herringbone Natural Beech Wood Flooring
Herringbone Walnut Wood Flooring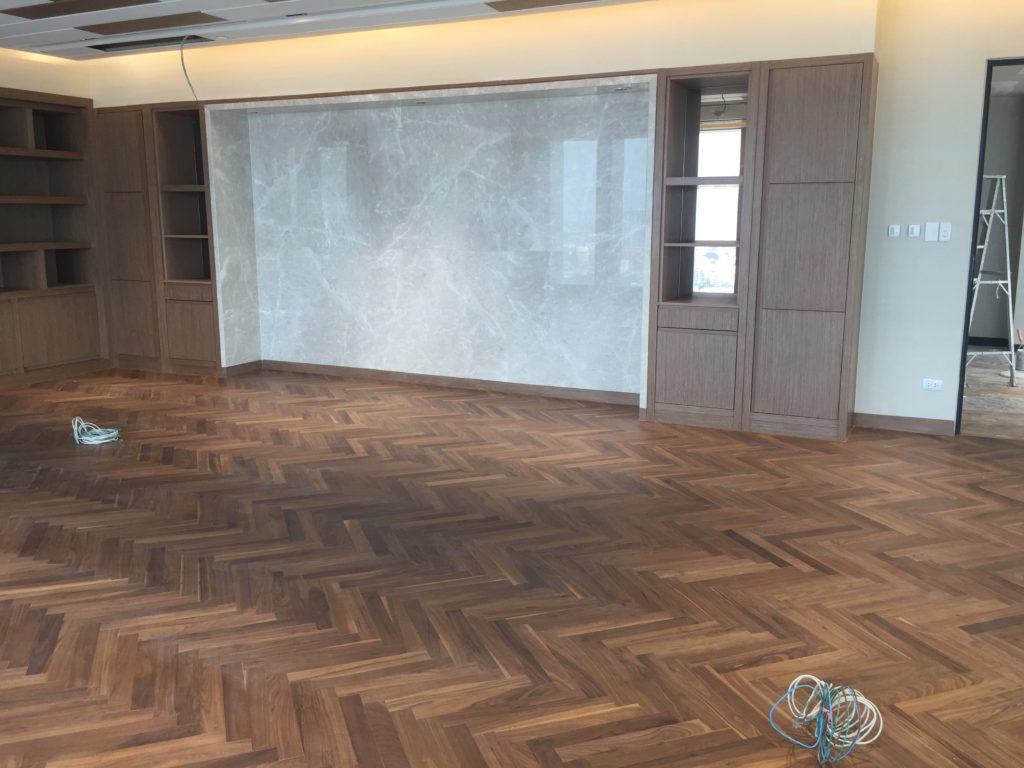 Herringbone Super White Oak Brushing
Call now for more information!
We are pleased to provide information and consult you with the right product that suit your home.
Double Floor Co., Ltd. Call 02-398-6896, 02-398-2228 English Line: 08-9158-6341
Email : theDoubleFloor@gmail.com | Facebook : www.facebook.com/theDoubleFloor | Line : @DoubleFloor (with @ Sign)